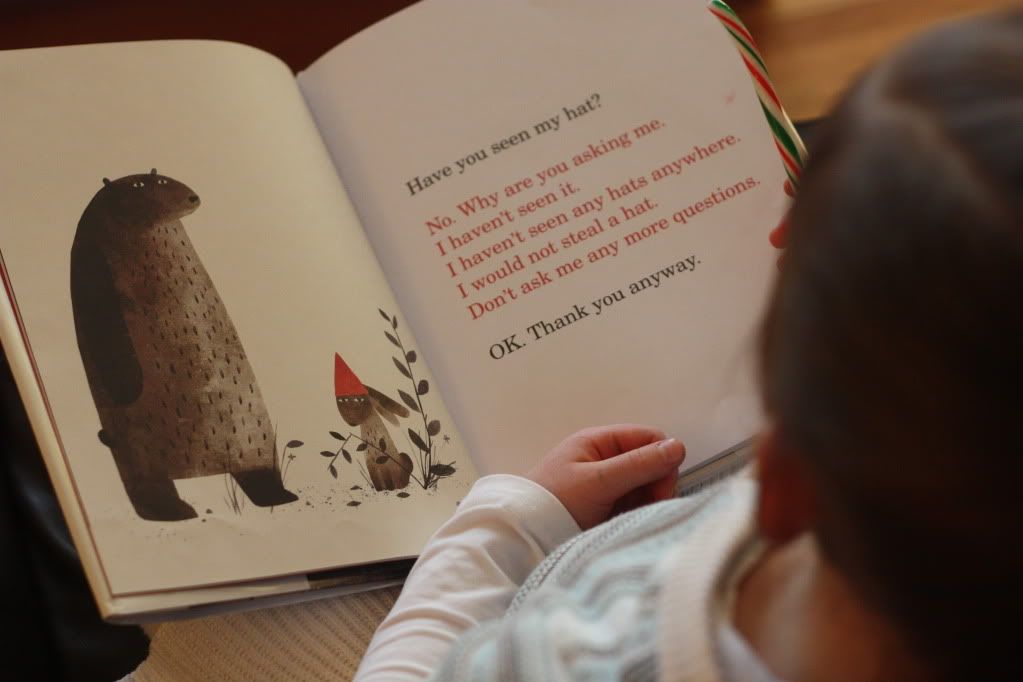 I Want My Hat Back
(Candlewick Press, 2011), written and illustrated by Jon Klassen, tells the tale of a bear who can't find his hat. He goes about the forest asking anyone he passes if they've seen the hat. Initially he assumes everyone is telling him the truth when they reply that have not seen the hat, even when he receives a very defensive reply from someone who does, indeed, appear to be wearing the missing hat. The bear finally realises he has been told a fib and he literally sees red as he heads back to investigate.
I think I may have actually enjoyed this story more than my daughters. I was laughing out loud and, while I think some of the humour may have been lost on them, they enjoyed the story too. When we finished reading the book they even asked me to reread their favourite parts. It was a great opportunity for us to start another conversation about fibs and how they can hurt others. I also appreciated the way the text is presented. It's written in a fairly simple, repetitive form and is great for beginning readers, like my daughter. She was able to help me read some parts of the story.
Author/illustrator Jon Klassen, originally from Canada and now living in the US, is a past winner of the Governor General's Award for Illustration. He is a talented artist and the pictures in this book are extremely well executed. Some pages are simply illustrated as no words are needed. Klassen has an amazing way with drawing very expressive eyes in his characters so that readers know precisely what the characters are thinking.