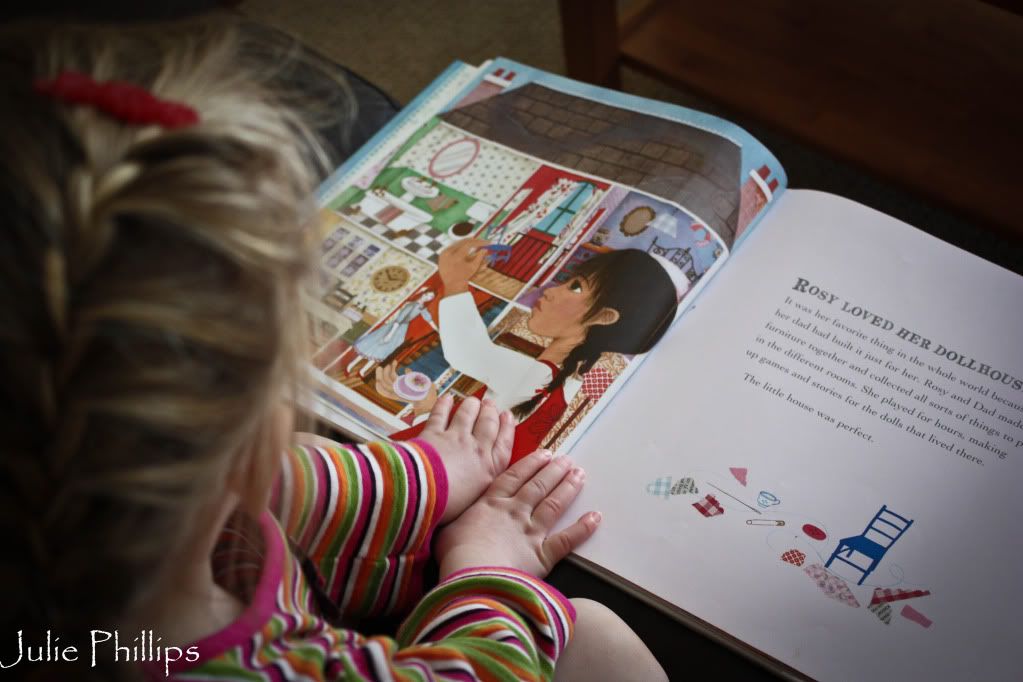 My daughters have asked my husband and I to read
The Dollhouse Fairy
(Candlewick Press, 2009) over and over again. Written and illustrated by Jane Ray, this story book is appealing on so many levels.
One of the first things you'll notice is the art. Ray has used one of my favourite methods in creating colourful, fun imagery: collage. Watercolour, inked stamps, fabric and foil are just a few of the mixed media she has included in her illustrations. One could just sit and while away the time looking at the details in each picture. But even beyond the book's beautiful and intricate visuals is Ray's touching and sweet story of a young girl.
Rosy loves spending Saturday mornings with her dad. One of their favourite pastimes is creating things for her dollhouse that her dad built for her. One Saturday morning, however, Rosy awakes to find her dad has fallen ill during the night and has been taken to hospital. Rosy is crushed but finds comfort in her dollhouse. She soon discovers that during the night a fairy has moved in! Rosy tends to Thistle, the fairy, and her injured wing. Soon she and Thistle have become good friends and Rosy's worries about her dad are lessened. When Rosy's dad comes home from the hospital Rosy confides in him about her new friend. But they discover Thistle is gone from the dollhouse. The fairy's wing has mended and she is nowhere to be found.
This is our first encounter with Jane Ray's books but she has written a couple of others, that we know of, so we're off to find those!