We have a huge collection of Christmas themed books we've been reading over the past month or so and I thought I'd be blogging about a different one each day but December has flown by. One of the books we've been reading a lot of is
Jan Brett's Christmas Treasury
(Penguin Young Reader Group, Sept. 2001). It is full of great stories and illustrations, both Christmas themed and just winter themed as well.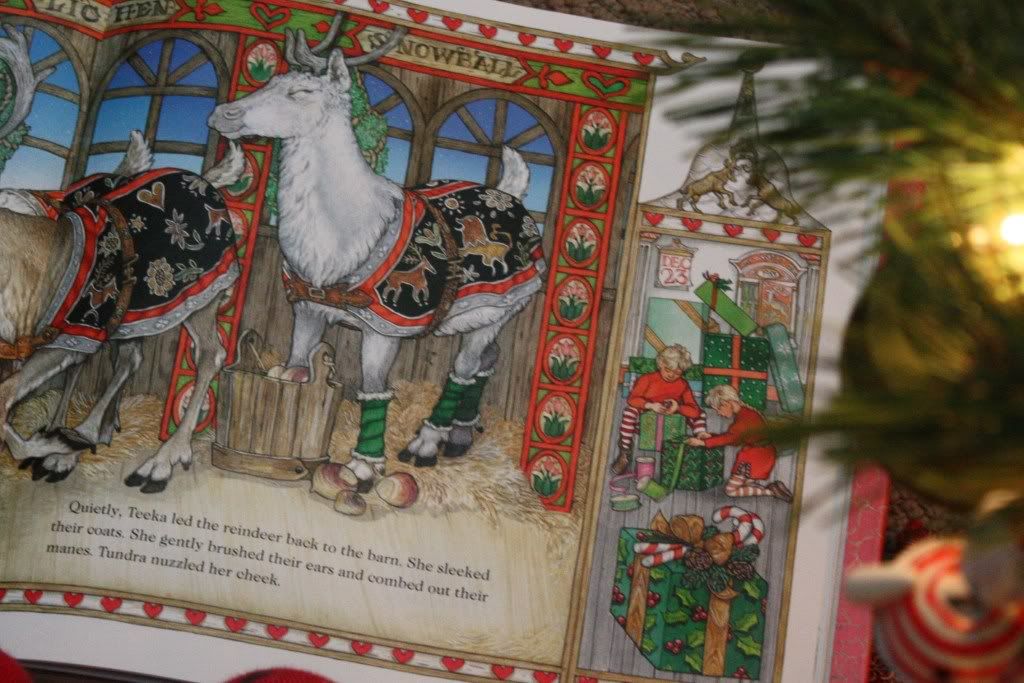 One of my girls' favourites in the treasury is
The
Mitten
. It's about a boy whose grandma knits him a pair of white mittens. After being warned not to lose them, he does just that when he drops one in the snow. Soon, one after another, different wild animals find the mitten and nose their way in to the warm space. Finally a tiny mouse decides there might be just enough room to squeeze himself in and he perches himself upon a bear's nose. This tickles the bear and he sneezes, sending all the animals flying out of the mitten. The boy recovers his lost item and returns home to his grandma who is left wondering what on earth happened to stretch the mitten out so much!
Two other favourites feature trolls, much to my daughters' delight.
Christmas Trolls
and
Trouble with Trolls
are stories that feature a little girl named Treva and her surprising and funny encounters with trolls.
Christmas Trolls
is a sweet story about the importance of sharing and being generous to others. In
Trouble with Trolls
Treva must figure out a way to save her dog from a persistent family of trolls who would like to have her pet for themselves. Brett is known for her use of small vignettes in addition to her stories' main illustrations and this is particularly effective here. A separate yet related story happens at the same time when underground, in the trolls' home, a hedgehog moves in and makes himself at home.
Brett also puts her own spin on two Christmas classics,
The Night Before Christmas
and
The Twelve Days of Christmas
. Her fantastical illustrations make them not only fun to read but much more appealing to the younger set than more traditional versions of the stories. All the stories in this collection make you want to snuggle up in front of a fire with a cup of hot chocolate and enjoy the season.