I hated,
hated,
writing book reports as a kid. I remember being assigned a book report on 'Lassie' in Grade 6 French and not even beginning the reading portion of the assignment until the Sunday night before it was due. I never did like being told what to read or how to retell the story. I don't think I'd make a very good book club member. And now here I am essentially writing book reports.
I truly love collecting and reading children's books with my daughters, my tiny bookworms. All is well with the world, at least in our house, after a trip to the library for a stack of new books from the children's section. Mummy is guaranteed at least 40 minutes of peaceful silence while two little girls sit and carefully (well, it's 'carefully' now but it was an entirely different story a couple of months ago, but I digress) flip through the pages transporting them to new places, times and characters.
Hopefully this blog will help us to share our favourite literary finds. I'll write about favourite books we've already read and keep returning to as well as new books we encounter. Some are books we own and others are library finds.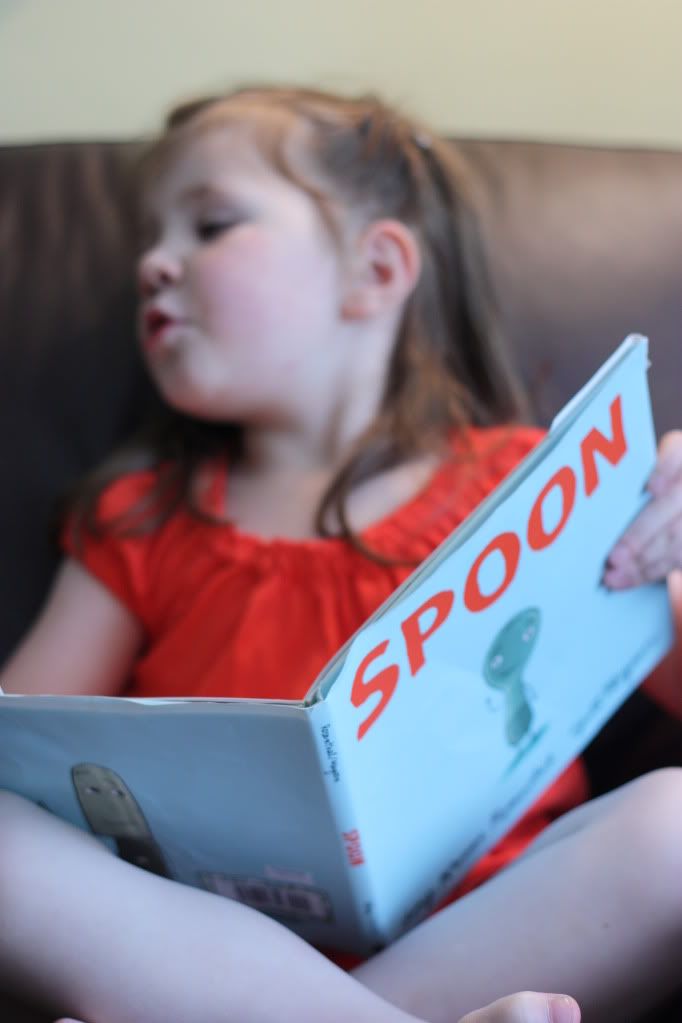 First up,
Spoo
n
written by Amy Krouse Rosenthal and illustrated by Scott Magoon (Hyperion Books for Children, April 2009). This book is one of my all time sentimental favourites. The illustrations are cute and sweet but simple. The text highlights the importance of being an individual and showcasing one's unique qualities without any unnecessary sappiness. I'm at the point right now where it takes very little to make me cry and I'm often not in the mood to start weeping just as we're settling down into our bedtime routine.
Spoon is a young utensil who yearns to be like his friends. He wishes he were capable of such daring feats as cutting like his friend, Knife. Or hanging out over a BBQ grill, ready to flip a burger like his friend, Fork. Or possessing the elegant, graceful movements of his friends, the Chopstick Twins. He sees the individual characteristics in his friends that make them special but he is blind to his own one-of-a-kind traits. It is not until his mom points out all his amazing and unique abilities that he realises he is special, too.
One of the qualities I particularly enjoy about this book is the author's use of humour. It functions as a way of drawing the interest of the reader, child and adult alike. That extra little bit of effort on the author's part to direct some humour to the adult reading the story is always appreciated since it happens all too infrequently in most children's stories, in my opinion. And, I have to admit, I kind of like seeing that look of bewilderment on my kid's face when I laugh out loud at something she doesn't quite get...yet.